Public transportation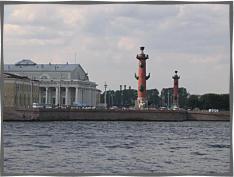 The network of public transportation in St. Petersburg is quite extensive. The resources of public transportation are quite over-stretched, and most public transport is not particularly user-friendly. Nonetheless, the metro is a very reliable and cost-effective way of medium and long-distance transportation. It is also good for journeys within the downtown area. For the shorter trips you are more likely to use trams, buses and trolleybuses, or taxis.
Metro
St. Petersburg's metro is perhaps not as majestic as the one in Moscow, yet it looks more impressive than most other subways and undergrounds of the world. It is also the deepest subway in the world.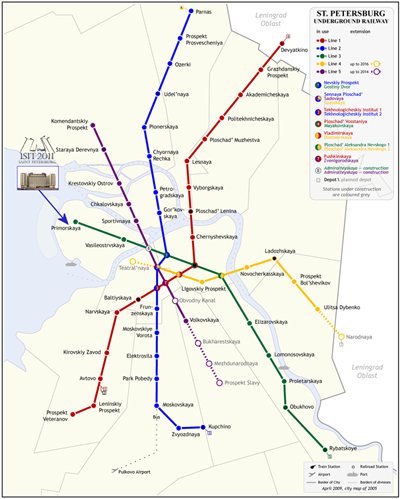 Metro stations are identified by the blue (M) sign and have separate doors for incoming and outgoing passengers. St. Petersburg's metro has five lines which are numbered and assigned specific colors on a metro map. Line 1 has the most beautiful stations and thus is perfect for "metro sightseeing".
Normally trains arrive every 2-3 minutes, with slightly longer waiting periods early in the morning and late at night. Note the changes in the metro opening times: on average the stations open at about 5:45 a.m. and close between midnight and 0:30 a.m. You can transfer from one line to the other until 0:15 a.m.
To enter the metro you should buy a token or plastic pass in the turnstile. Tokens cost 25 rubles for a ride. You can be purchased at special counters or booths located at every station. These booths also sell monthly metro passes and passes which allow you to use all forms of public transport.
To enter the metro do the following:
If you use tokens: place your token in the entry gate (with your right hand), wait for the token to drop, then walk through, or
If you have a monthly / 10 Plastic Pass: insert your monthly/10 plastic pass into the slot of a gate. When the card is ejected, walk through. If you have any problems with a gate, take your card to the member of station staff on duty, who can normally be found in a glass booth near the entry gates.
TRAM
One can call St. Petersburg a "City of Trams" because it has more trams than any other city in the world. Tram stops are marked with signs above the tracks (with a letter "T" on them).
All trams have conductors on board. You should pay in cash to a conductor, unless you have a monthly pass. Conductors normally wear special uniform (and/or red arm bands). They check whether everybody has paid and sell tickets to those who need them.
BUS
The bus network of St. Petersburg is extensive, but can be a bit confusing for a foreigner. Bus stops are marked by signs with the letter "A".
Currently the city has several types of buses:
Regular buses have conductors on board. You should pay for your ticket in cash to a conductor or show him/her your monthly pass.
Commercial Regular Buses accept cash only and no passes are valid on them. They are somewhat more expensive that City Bus but nevertheless relatively inexpensive and less-crowded are distinguished by the letter "K".
TROLLEYBUS
Trolleybus stops are marked with signs with blue letter "T". Show your monthly pass to a conductor otherwise pay in cash for your ticket.
MARSHRUTKA
A «marshrutka» or «marshrutnoe taksi» is a privately owned minivan or small bus that follows a fixed route, collecting and depositing passengers anywhere along the way. Anyone who has traveled in the Middle East or Asia will be familiar with the concept, although they are particularly widespread in Russian cities.
The most common are yellow or white Gazelle vans - a Russian knockoff of a Ford Transit - that seat up to fifteen passengers. Route numbers, usually prefixed with the letter 'K', are prominently displayed on the front and side of the bus, often alongside the most important stops along the route. To stop a «marshrutka» for boarding, stick out your arm in the same way as you would to stop a taxi. The driver is unlikely to stop even at official bus stops unless flagged down. There is no standing room on the typical «marshrutka», and most drivers wait until their vehicle is full before setting out, so don't be surprised if one or two pass you by before you get a seat.
It is the norm to pay as soon as you have entered, passing money to the driver through the passengers in front of you. For this reason, it is best to avoid the seats at the very front of the cabin, otherwise you will find yourself passing money backwards and forwards throughout your journey. Unless you are traveling to the end of the route, you will need to request the driver to stop at your destination. If you have the language skills, then explain exactly where you wish to be dropped. Otherwise, just shout "asto- na-VI-tye, pa-ZHA-lu-i-sta" - "stop, please!" - when your stop comes into view.
TAXI
St. Petersburg does not have as many taxis as New York or London, but there are still plenty of taxis in the street. Perhaps to confuse you, taxis are marked in a very diverse fashion.
Here is how you can identify a taxi:
some taxis are painted bright yellow
some taxis have an orange checkered light on the roof
some taxis have green lights in the upper-left corner of windshield and the light is on when the cab is available
the more expensive taxis might have yellow "taksi" signs on the roof.