Conference hotel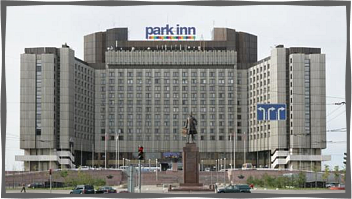 ISIT 2011 will take place at the «Park Inn Pribaltiyskaya» hotel. It is a comfortable international- level hotel, is located in the historical centre of Saint- Petersburg in Vasilyevsky Island, on the coast of the Gulf of Finland. Park Inn Pribaltiyskaya Hotel in St. Petersburg is a modern and comfortable hotel ideal for business and leisure travellers. The hotel is just a 10 minute drive to great cultural attractions such as The Hermitage as well as being only 25 km from St. Petersburg's Pulkovo II International Airport.
You can find all the necessary information on the web site of the Park Inn Pribaltiyskaya.
Location
Having looked at the city map, you may probably note the convenient location of Hotel «Park Inn Pribaltiyskaya» in the historical center of the city, which, at the same time, stands away from the vanity and noise of downtown streets.
View Larger Map
25 km from St. Petersburg Pulkovo II International Airport
10 km from the nearest railway station
2 km to the closest subway station
10 minutes drive to impressive city hotspots like The Hermitage and the Peter and Paul's Fortress
Shuttle service to the city centre